Price can be a key driver for turn. The last thing your dealership wants is cars getting stale on
the lot, losing value and costing you money. That's obvious, of course, but it's always important
to make sure that you're taking full advantage of all the tools at your disposal. Our goal at Xcite
is to enhance anything that your dealership does in the public arena. So today, I want to take a
little time to talk about a way in which our tools might provide a more effective way to show
value in pricing strategies.
Let's look at a problem with vehicle pricing, specifically as it relates to communicating with a
customer. Imagine a buyer in the market for a used car. Let's say our hypothetical buyer has
budgeted $25,000. He's looking for a late model domestic SUV, something like a Chevy
Equinox or a Ford Edge. While surfing around car buying sites looking at his options, the buyer
finds two similar cars that interest him. Car A is priced at $22,000, and Car B is priced at
$24,000. As far as he can tell from the information online, the two options are identical. So
which one is he going to buy? The cheaper one, right? It's the better deal!
What if I told you that Car B is priced higher because it comes with navigation, Bluetooth
connectivity, and a Power Programmable Liftgate? Instead of looking at an inexplicable price
difference, the customer now has more options available to him. Before I knew about the
additional value added features, I was just choosing between paying a higher price and paying a
lower one. Now, though, I can get additional features and still come in under budget.
This scenario can be seen in the info-graphic below: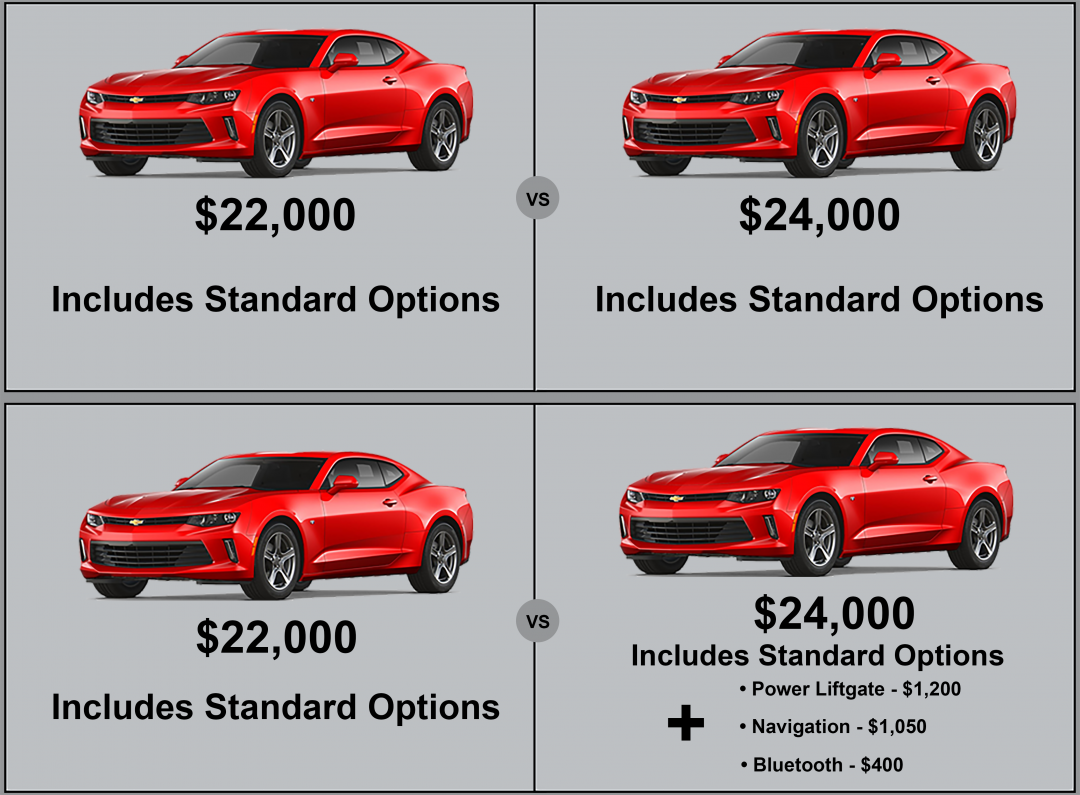 While the above scenario may be a little oversimplified, it reveals a problem that you likely face
every day. In the early days of vehicle merchandising, a lot of dealers found holding back
vehicle features on a car was a useful strategy. You could get the customer to call and ask
questions about the car, and eventually get them on the lot. Now, with so much information
available online, customers are reticent to pick up the phone. The truth is, with all the research
that the consumer can do themselves, they want to be able to see all the vehicle features and
packages available to them. There's simply no advantage to keeping features from a customer
anymore.
To hold value, we need to make sure that the customer understands why a car is priced
the way it is. The fact is, dealers are losing money because current market tools don't consider
all the options and are pricing cars incorrectly. Worse, they're not always clearly communicating
to the customer why prices are differentiated. Giving the customer more information on the front
end means that they're not making decisions based on incomplete data. Given the huge role
that the internet plays in car buying today, we want to make sure the customer can access as
much information as possible online. When they feel more educated and in control, they're more
likely to spend a little bit more if they know that they're getting more for their money.
So what do we do about all this? Xcite's solutions are prepared to take any type of vehicle to
match OEM specs. Our tools also make sure that all the data gets sent to Autotrader, Cars.com,
and the dealer website so that all the value added features are clear when the customer sees
the vehicle online. We allow you to clearly and precisely communicate all the relevant details to
a potential buyer so that you're not getting undersold by a model with fewer value added
features.
What's more, the software doesn't discriminate based on make or model. Say you run a Ford
dealership, and you have a customer who wants to trade their Volkswagen in. The pricing
platforms out there today use data points that are easy to get, like year, make, model, trim, and
mileage. All that information is useful, of course. But what current platforms can miss, though, is
specific pricing data for value added features. If a car has these, our tools are able to factor that
into the price, giving you pinpoint accuracy in your pricing, even when it's a make and model
that you don't always carry.
We'll talk more in this space about the advantages that our software can offer in terms of
pricing, but with Xcite's platform you can be assured that your customers are getting complete
and accurate information on the cars they're looking at. When you give the customer that kind of
control, you're going to get better results.